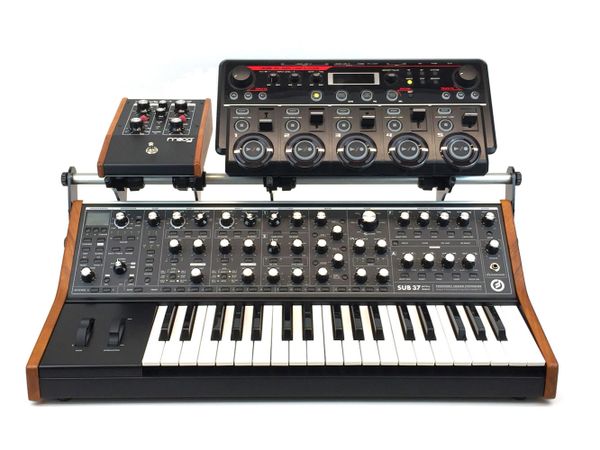 SubPiggy Stand
At last, a piggyback stand for Moog Sub(sequent) and Phatty users!  This unique stand holds gear above the upper edge of the control panel while leaving room for you to rest your fingers on the edge of the synth as you tweak knobs.  The gear support arms can be easily repositioned and locked in place.  This stand can make performing and playing easier by placing fx pedals, a controller keyboard, a looper, a drum machine, a laptop or tablet, or other gear within easy reach of the synth control panel. 
If you like the idea of the SubPiggy but you don't want to attach directly to your synth, take a look at our
Gear Rail
.  It's a close cousin to the SubPiggy and it's freestanding.  The Gear Rail fits great with Moog Sub synths too.
Features:
Attaches directly to existing fastener holes in the synth.  
Felt washers protect the end cheeks on the synth.
Fits Sub 37, Sub Phatty, Little Phatty, Subsequent 37, Subsequent 37 CV, Subsequent 25.

NOTE:  email us at mike@kvgear.com if you will attach this to a Sub Phatty.  We'll include a special set of mounting screws specifically for the Sub Phatty

End panels can be easily removed and reinstalled for touring.
Maximum total weight of gear on SubPiggy to be 6.8 kg (15 lb).
Gear support arms are 6.75" deep and are available angled or flat (horizontal)
Decksaver compatible if a special set of spacers are installed.  NOTE:  email us at mike@kvgear.com to request a free set of Decksaver spacers for your order
Optional Accessories:
Extra pair of angled gear support arms.
Extra pair of flat gear support arms.
Expansion Shelf (medium or large).
Volca Tray.
Includes:
(2) end panels
(4) support arms with locking collars (specify angled or flat during ordering)
(2) rigid support tubes

(4) steel/plastic knobs
(4) felt washers
(4) mounting screws
If you intend to use this stand on a Subsequent 37 CV, be sure to specify that as your synth in the options above.  We will include a special set of mounting fasteners.
CAUTION:  Do not lift your synth using the SubPiggy stand.  Doing so will cause the stand to break and your precious Moog will drop to the ground.  Do not transport your synth with gear on the SubPiggy stand.
For more information, including assembly instructions and gear fit-check, see our YouTube channel and Downloads Folder.