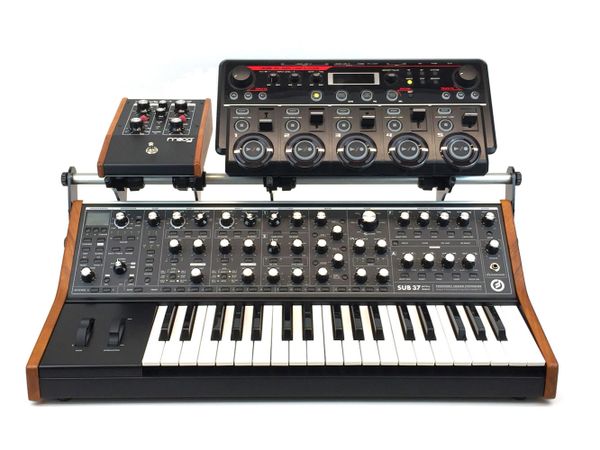 SubPiggy Stand
At last, a piggyback stand for Moog Sub(sequent) and Phatty users!  This unique stand holds gear above the upper edge of the control panel while leaving room for you to rest your fingers on the edge of the synth as you tweak knobs.  The gear support panels can be easily repositioned or rearranged and then locked in place.  This stand can make performing and playing much easier by placing fx pedals, a controller keyboard, a looper, a drum machine, a laptop or tablet, or other gear within easy reach of the synth control panel.
Features:
Attaches directly to existing fastener holes in the synth.  
Felt washers protect the end cheeks on the synth.
Fits Sub 37, Sub Phatty, Little Phatty, Subsequent 37, Subsequent 37 CV, Subsequent 25.
Maximum total weight of gear on SubPiggy to be 6.8 kg (15 lb).
Optional Accessories:
Extra pair of angled gear support brackets.
Extra pair of flat gear support brackets.
Expansion Shelf (medium or large).
Bendit Tray.
Includes:
(2) end panels
(2) angled supports with locking collars
(2) flat supports with locking collars
(2) rigid support tubes
(4) steel/plastic knobs
(4) felt washers
(4) mounting screws
For Subsequent 37 CV (all silver with wood-grain end panel inserts):
You must remove the thin, cosmetic "wood" side panel inserts before installing the SubPiggy.
Contact us and we will include special adapter fasteners for free.
See the assembly instruction video here <???> or the written assembly instructions here <???>

CAUTION:  Do not lift your synth using the SubPiggy stand.  Doing so will cause the stand to break and your precious Moog will drop to the ground.  Do not transport your synth with gear on the SubPiggy stand.