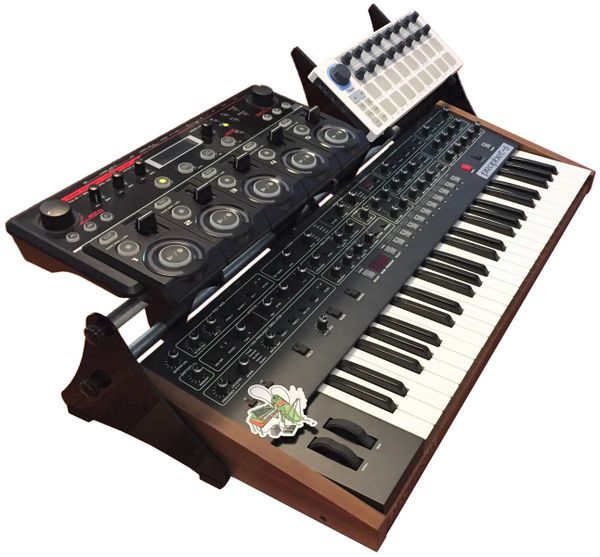 Gear Rail Stand
The Gear Rail is the desktop cousin of our very popular SubPiggy stand.  Unlike the SubPiggy, the Gear Rail doesn't contact the synth.  It's ideal for holding Eurorack skiffs above the CV ports of the Matriarch, Grandmother, Pro-2, Matrixbrute, Minibrute 2, Waldorf KB37, minilogue and many others.  It can make performing and playing much easier by allowing you to place a Eurorack skiff, fx pedals, a controller keyboard, a looper, a drum machine, a laptop or tablet, or other gear within easy reach of a large synth's control panel.  You can even use it to hold outboard gear above the back edge of a 32 channel mixer!  The gear support panels on the Gear Rail can be easily repositioned or rearranged and then locked in place.  Add or remove the support panels (flat and angled versions are available) as your needs change.
Features:
Several length options to fit almost any 25 to 49 key synth.
Maximum total weight of gear on Gear Rail to be 6.8 kg (15 lb).  You can exceed this weight limit if you're careful not to push or pull on the fully loaded stand.
Gear support arms are 6.75" deep and are available angled or flat (horizontal)
Angled arms can hold: Deluge, Reface, iPad, and much more
Optional Accessories:
Extra pair of angled gear support brackets.
Extra pair of flat gear support brackets.
Expansion Shelf (medium or large).
Bendit Tray.
Includes:
(2) end panels
(4) support arms with locking collars (specify angled or flat supports during ordering)
(2) rigid support tubes

(4) steel/plastic knobs
For more information, including assembly instructions and gear fit-check, see our YouTube channel and Downloads Folder.