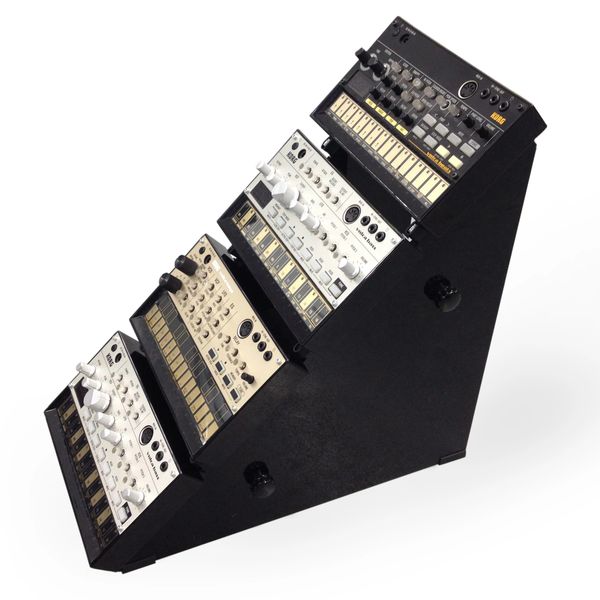 Volc 45 -4
Make your setup look great and feel great by organizing with KVgear. Our stands are sleek, compact and sturdy. They position gear ergonomically and provide room for cable access. We combine innovative design, quality materials and precision manufacturing to make stands that you can count on. 

The Volc 45 gets its name from its function and shape:  holding Korg Volcas at a 45 degree angle.  The Volc 45 is sleek, compact, lightweight, easily assembled and disassembled, and is designed to position your Volcas for ergonomic use. 

Each nest notch on the Volc 45 has rubber lining to keep your Volca from sliding off.  Four rubber feet on the bottom edges keep the Volc 45 from moving on your table or desk.  The Volca 45 can be easily disassembled by removing 4 knobs, allowing the two side panels and two cross rods to be carried flat.
Optional Accessories:
Adapt Wings

Bendit Tray
Connector Tube (various lengths for wider gear)
EDS-UX (to add Eurorack tier at the top of the stand)
Expansion Shelf Medium
Stand Riser
Support depth:
Upper 4.5" (114 mm).  Gear can overhang off the back up to 1" (25 mm).
Middle 4.6" (117 mm)
Lower 4.6" (117 mm)


Dimensions: (Width x Depth x Height)
inches: 6.2" x 14.9" x 14.5" (7.6" wide @ knobs)
mm: 157 x 378 x 368 (193 wide @ knobs)  
For more information, including assembly instructions and gear fit-check, see our YouTube channel and Downloads Folder.