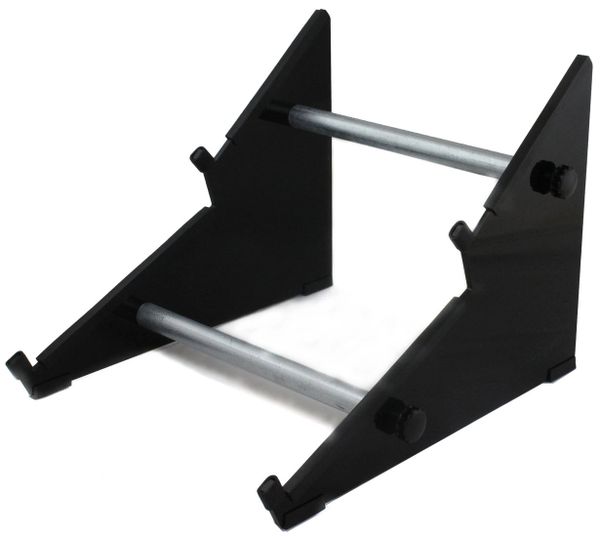 Utility Stand M2
Make your setup look great and feel great by organizing with KVgear.  Our stands are sleek, compact and sturdy.  They position gear ergonomically and provide room for cable access.  We combine innovative design, quality materials and precision manufacturing to make stands that you can count on.
The KVgear Utility M2 accommodates a wide range of small to medium sized electronic music gear.  Add one or two Expansion Shelf Medium to hold small items on the stand.

---
Support depth:
  Upper 6.0" (152 mm).  Gear can overhang off the back up to 1.5" (38 mm).
  Lower 7.3" (185 mm)


Fits: 
Keystep, Beatstep Pro, Reface, TD-3 and RD-6, 303 and 606, Avalon, most Elektrons (not A4 Mk II, Rytm Mk II),  nanoKEY Studio, nanoKONTROL Studio, Virus desktop, Remote Zero, Blofeld, Pulse 2, Vermona Mono Lancet
Fits upper tier only:  MPC Live, P6 and OB6 desktops, Circuit, Launchpad, Launchpad Pro, Squarp Pyramid, Dreadbox Nyx/Erebus/Hades, 0-Coast, Rocket, Streichfett, Eurorack desktop synths (DFAM, M32, Behringer)
Optional Accessories:
Adapt Hooks
Bendit Tray
EDS-UX (to add Eurorack tier at the top of the stand)

Expansion Shelf Large
Expansion Shelf Medium
Stand Riser
---
Features:
Rubber feet and lining for silence and stability
Each synth can be removed from stand without affecting others 
Unobtrusive and almost invisible once you install your gear 
Effortless tool-free assembly/disassembly 
Telescoping metal rods.  Stand width varies from 6.4" to 10.1"
Dimensions: (Width x Depth x Height)
inches: 10.0" x 12.3" x 9.0" (11.3" wide @ knobs) 
mm: 254 x 312 x 229 (287 wide @ knobs) 
For more information, including assembly instructions and gear fit-check, see our YouTube channel and Downloads Folder.