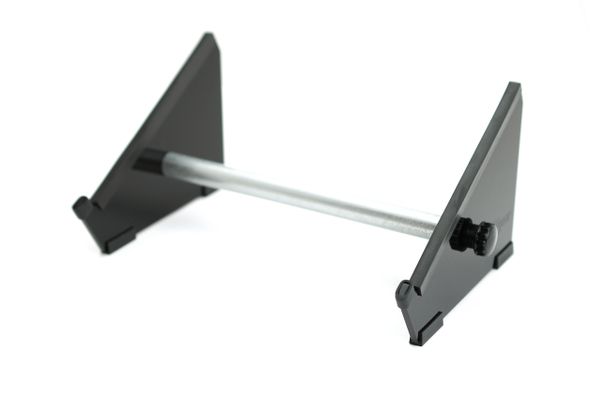 Utility Stand M1
Make your setup look great and feel great by organizing with KVgear.  Our stands are sleek, compact and sturdy.  They position gear ergonomically and provide room for cable access.  We combine innovative design, quality materials and precision manufacturing to make stands that you can count on.
The KVgear Utility M1 accommodates a wide range of small to medium sized electronic music gear.  Add an Expansion Shelf Medium, Expansion Shelf Large, Ramp Rack Small or Ramp Rack Medium to hold small items on the stand.  Other gear can be placed flat on the table directly in front of the Utility M1.

---
Fits: 
 Elektron, Push, Electribe,  modular skiff, Beatstep Pro, Keystep, TR-8, Microbrute, Circuit, nanoKEY Studio, nanoKONTROL Studio, Roland Boutique K-25m, much more. See Fit Check for details.  
---
Features:
Rubber feet and lining for silence and stability
Each synth can be removed from stand without affecting others 
Unobtrusive and almost invisible once you install your gear 
Effortless tool-free assembly/disassembly 
Steel connecting rods
Assembled Size (Width x Depth x Height)
Single tier 7" deep.