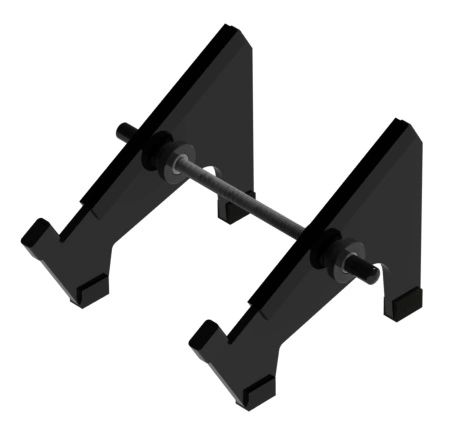 Stiletto Angled
Make your setup look great and feel great by organizing with KVgear. Our stands are sleek, compact and sturdy. They position gear ergonomically and provide room for cable access. We combine innovative design, quality materials and precision manufacturing to make stands that you can count on.

If you've ever wanted to place gear on a mixer, keyboard or console, the Stiletto Stand is for you.  This unique stand holds a smartphone, iPad, tablet, MIDI controller, FX pedal, synth module or small drum machine.  Adjustable width allows the feet to sneak between rows of knobs, buttons or sliders.  Tall feet allow the stand to perch over buttons or a display screen.  See the KVgear Stands Summary for detailed information.
---
Features:
6" maximum width (12" width if the XL rod is purchased)
Low profile:  just a little taller than a typical mixer knob
Sleek and unobtrusive with a minimum footprint
Rubber lining on feet and cradle provides stability and prevents squeaks
Effortless tool-free assembly and adjustment
---
Dimensions (Width x Depth x Height)
    inches: 1.2" - 5.4" x 5.6" x 1.6" (6.0" wide @ knobs)
    mm: 30 - 137 x 142 x 41 (152 wide @ knobs)
For more information, including assembly instructions and gear fit-check, see our YouTube channel and Downloads Folder.