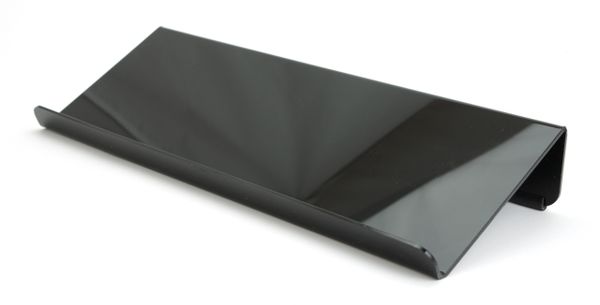 Ramp Rack, Medium
Dimensions:

Width x Depth x Height
388.9 x 147.5 x 58.8 mm
15.31 x 5.81 x 2.31


The Ramp Rack accommodates a wide variety of small electronic devices:  Korg Volcas, drum machines, fx pedals, minifoogers, small synths, Kaoss pads, and more.   Although the rack is 6" deep, boxes and modules up to 10" deep can fit on it by hanging over the back edge and they will still be solid and stable..    It features a padded front lip to keep your gear from moving or buzzing, and a rubber bottom edge to keep the rack in place.
The Ramp Rack is designed for desktop use.  It's not beefy enough to hold stompbox pedals in place as you step on them.
The medium version of the Ramp Rack is sized to fit two Volcas side-by-side.  It will also fit several fx pedals and other devices.  Also pictured is a Microbrute on a short Ramp Rack.  This shows what a large items looks like when it hangs off over the edges.