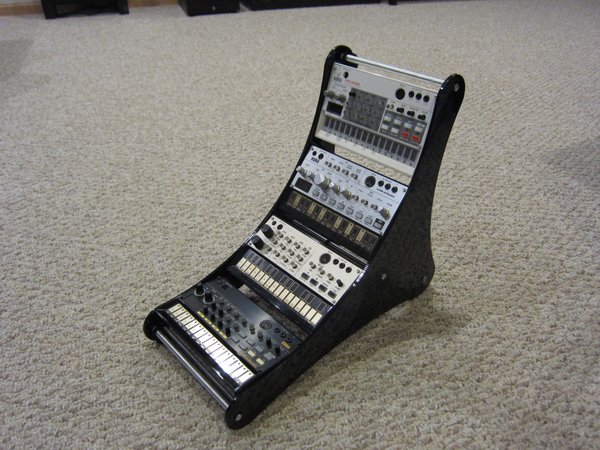 Lobe V4
The Lobe V4 is a premium stand that holds four Korg Volcas with an emphasis on aesthetics and ergonomics. Extra-thick side panels provide stability. Two cable management hangers are included to help organize power, audio and MIDI cables. Soft rubber feet keep the stand from slipping. Rubber strips secure the Volcas in the cradle slots.
Materials and construction details are identical to the Lobe V3. Two of the Lobe V4 photos show the initial prototype, which used thin silver cross rods instead of large black ones. The side panels on the prototype were thinner than in production.
Dimensions:
Width x Depth x Height
212.2 x 418.3 x 363.4 mm
8.35 x 16.47 x 14.31 inch

NOTE: Due to the large size of the Lobe V4, extra shipping fees might be necessary for US states on the east and west coasts. My automated shipping calculator cannot take this into account, so for customer in some US states, I might need to contact you to ask for your preference on how to deal with the situation. You can either pay the actual upcharge from the USPS, or I can ship the Lobe V4 partially disassembled and flat in a smaller box. For international orders, the Lobe V4 will automatically be shipped flat, but instructions will be included.