Eurorack Desktop Synth Stand EDS-3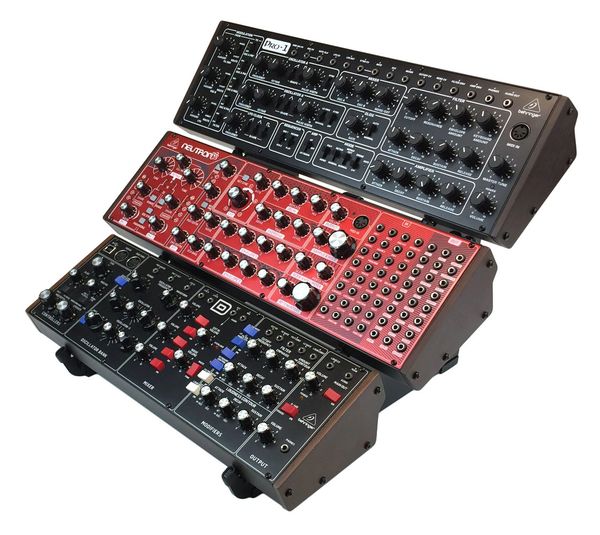 Eurorack Desktop Synth Stand EDS-3
Make your setup look great and feel great by organizing with KVgear.  Our stands are sleek, compact, sturdy and made in the USA.  They position gear ergonomically and provide room for cable access.  We combine innovative design, quality materials and precision manufacturing to make stands you can count on.
---
Euro Desktop Synth (EDS) stands let you mix different HP widths, a mini keyboard or non-Euro gear on the same stand.  Expand or modify the stands using KVgear accessories and adapters.  All stands allow a Keystep to fit on the table in front of the stand with room for cables to pass under the lowest synth.  
EDS-3 stand can hold:

Behringer Cat, K-2, Model D, Neutron, Pro-1, Wasp Deluxe
Behringer Crave or Korg Minilogue xd module on upper tier if Adapt Hooks are purchased
Moog DFAM, Mother 32, Subharmonicon
Radikal Technologies Delta CEP A (not verified)
Keystep, Beatstep Pro, Crave, Yamaha Reface if KVgear EDS-LA adapter is used

Skiffs or other gear up to 10" (250 mm) deep on upper tier if Adapt Hooks are used
Skiffs up to 7" (175 mm) deep on upper tier (no Adapt Hooks necessary)
Skiffs up to 4.8" (121mm) deep on middle or lower tiers.
Roland Boutique, Blofeld or Pulse 2 on middle and upper tiers.
Korg Volcas when used with Bendit Tray
---
Advantages over the Behringer metal stand:
Accepts mixture of different synth widths at the same time
Accepts controllers, small skiffs (upper tier only) and non-Euro synths 
Fits many brands of Euro desktop synths since side panel screws are not used
Quick, tool-free setup and teardown
Ability to hold Keystep or Beatstep in the stand (adapter bracket may be necessary)
Can add an extra tier later as your collection grows
---
Add additional tier to top of EDS-2 or EDS-3 using optional EDS-UX upper expander brackets.

Dock a Keystep, Beatstep, Crave, Reface or other small keyboard in bottom tier of EDS-3 using optional EDS-LA multi-purpose lower adapter brackets.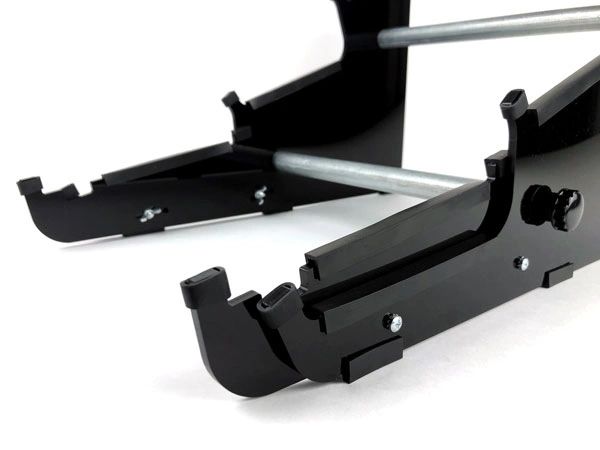 KVgear accessories compatible with EDS-3 stand:

EDS-UX upper expander bracket for Euro desktop synths
EDS-LA lower adapter for Keystep, Beatstep Pro, Crave, Yamaha Reface and other mini keyboards
Adapt Hooks
Bendit Tray
Connector Tubes (for gear wider than 104 HP)
Expansion Shelf Medium (on upper tier only)
Stand Risers
Other KVgear stands that can hold Euro desktop synths:
Stiletto Flat or Angled with XL rod
Boo-1
Boo-2 (upper tier only)
Boo-3 (upper tier only)
Depth of stand is 14.4" (366 mm).  The synths do not stick out beyond the front or rear edges of the stand, so this is the total depth of the stand when it's empty or fully loaded.
For more information, including assembly instructions and gear fit-check, see our YouTube channel and Downloads Folder.