DC-5 Daisy Chain Splitter Power Cable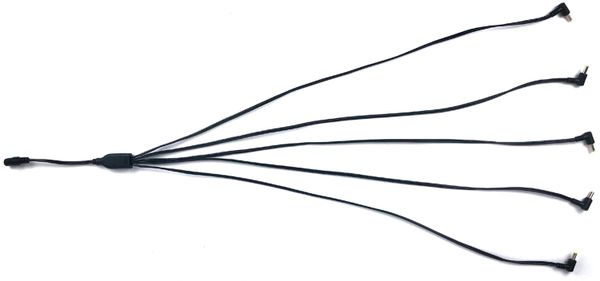 DC-5 Daisy Chain Splitter Power Cable
Maybe you call it a Volca daisy chain cable.  Or maybe a Volca splitter cable.  Or maybe a Volca multi-adapter.  Any way you call it, the DC-5 eliminates wall wart clutter and saves you money.  It allows you to use a single power supply to power up to five Korg Volcas or other devices on the list below.
Right angle connectors place the power wires away from the Volca top panel, eliminating clutter and leaving more room for you to perform.  The DC-5 uses high-quality molded strain reliefs and high-quality connectors.  They are factory molded and rugged enough to withstand years of use.  The overall length from the base jack to one of the barrel plugs is 790 mm (31 inches).
The DC-5 will work with any power supply that is 9 VDC center positive with a 4.75 x 1.7 mm barrel plug.  Current capacity should be 1500 mA or higher.  The KVgear PA2pro or PS-1, or Korg KA-350 or 9V600MACPP are guaranteed to fit perfectly with the DC-5.  NOTE:  Many aftermarket power supply manufacturers cut corners and use the slightly smaller EIAJ-02 barrel plug, which leads to intermittent loss of power through the daisy chain cable. 
Compatible devices are:

All Volcas, including Mix
ARP ODYSSEY
CLIPHIT
electribe, electribe sampler
KAOSS PAD KP3+
KAOSSILATOR PRO+
KR mini
KROSS
microKORG XL, microKORG XL+
microSTATION
minilogue
monologue
monotribe
MS-20 mini
Pitchblack Pro
RK-100S
tinyPIANO
WAVEDRUM Global Edition, WAVEDRUM Mini
For more information, including assembly instructions and gear fit-check, see our YouTube channel and Downloads Folder.