Captive V2x2 Stand for Korg Volca Synths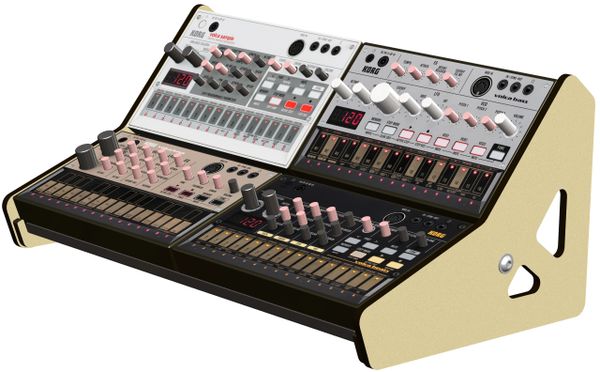 Captive V2x2 Stand for Korg Volca Synths
Make your setup look great and feel great by organizing with KVgear.  Our stands are sleek, compact and sturdy.  They position gear ergonomically and provide room for cable access.  We combine innovative design, quality materials and precision manufacturing to make stands that you can count on.
KVgear Captive stands have precision milled cradles to keep your gear extra stable during use.  This makes it easy to transport or move around your studio. A key feature that sets us apart is our use of steel connecting tubes..  This eliminates the predictable and all-too-common splitting that occurs when MDF connecting pieces are used.

---
Fits: 
A total of four of any Korg Volcas, SQ-1, Pocket Operators, fx pedals
Compatible with Decksavers.
Includes:

(1) Captive V2 stand with extra-long connecting tube
(2) Bendit Tray
---
Features:
Stand can be flipped, giving you choice of angles for your Volcas
Rubber feet for stability
Easy assembly using the included hex key

MDF side panels can be left as-is or you can paint them
Dimensions (Width x Depth x Height)
inches: 15.8" x 8.8" x 6.9"
mm: 400 x 223 x 176
For more information, including assembly instructions and gear fit-check, see our YouTube channel and Downloads Folder.