Boo-3 Stand for Roland Boutique Synths (B-STOCK)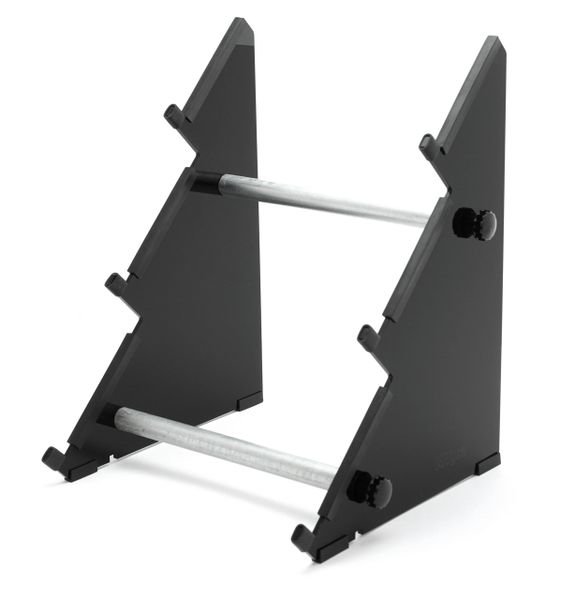 Boo-3 Stand for Roland Boutique Synths (B-STOCK)
B-STOCK:  The price of this stand has been reduced because it has been assembled and handled, resulting in fingerprints and minor surface scratches.  You'll never notice them once you assemble the stand and install your gear.
Make your setup look great and feel great by organizing with KVgear.  Our stands are sleek, compact and sturdy.  They position gear ergonomically and provide room for cable access.  We combine innovative design, quality materials and precision manufacturing to make stands that you can count on.
KVgear Boo-2 and Boo-3 stands are designed for Roland Boutiques, but can also hold other gear on the upper tier.  Add an Expansion Shelf Medium to hold small items on the upper tier.
---
Support depth:
Upper 4.1" (104 mm).  Gear can overhang off the back up to 1" (25 mm).
Middle 4.9" (124 mm)
Lower 4.9" (124 mm)


Fits: 
Roland Boutique (with or without DK-01 dock).  K-25m fits at lower tier.  Upper tier holds Blofeld, Pulse 2, Eurorack desktop synth.  See Fit Check for details.
---
Features:
Rubber feet and lining for silence and stability
Each synth can be removed from stand without affecting others
Unobtrusive and almost invisible once you install your gear
Effortless tool-free assembly/disassembly
Accommodates K-25m keyboard + Boutique at bottom tier
Compatible with the following KVgear accessories:
Adapt Wings
Bendit Tray
EDS-UX (to add Eurorack tier at the top of the stand)

Expansion Shelf Medium

Stand Risers



Dimensions (Width x Depth x Height)

inches: 10.0" x 10.0" x 12.8" (11.3" wide @ knobs)
mm: 254 x 254 x 325 (287 wide @ knobs)