Boo-3 Stand for Roland Boutique Synths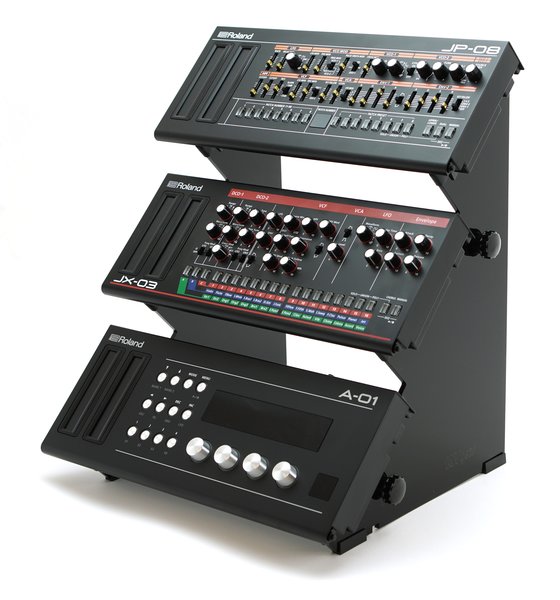 Boo-3 Stand for Roland Boutique Synths
KVgear Boo stands are constructed of stiff plastic side panels connected by steel tubes and sturdy knobs. The stands are nearly invisible from some angles, helping you focus on the control surface of your instrument.
All of the Boutique models fit, including the TB-03 and TR-09 which use the DK-01 tilt dock. Notches in the Boo stands allow a K-25m with a Boutique to be positioned to fill the first tier on the stand.
The stands can hold other gear, such as a Blofeld, BeatStep, 303 or 606. See the Fit Check page for details on which gear can fit on each stand.

Features:

Accommodates a K-25m keyboard

Ergonomic design
Sleek, unobtrusive and professional styling
Accommodates all cables on Boutique rear panel
Full rubber lining to prevent squeaks
Each synth can be removed from the stand without affecting the others
Rubber feet for secure positioning
Minimum footprint
Lightweight
Rapid tool-free disassembly
Dimensions (Width x Depth x Height)
Boo 1: 9.98" x 4.5" x 3.6" (254 x 114 x 91 mm)
Boo 2: 9.98" x 9.1" x 6.66" (254 x 231 x 169 mm)
Boo 3: 9.98" x 9.4" x 12.3" (254 x 239 x 312 mm)
Worldwide shipping available!