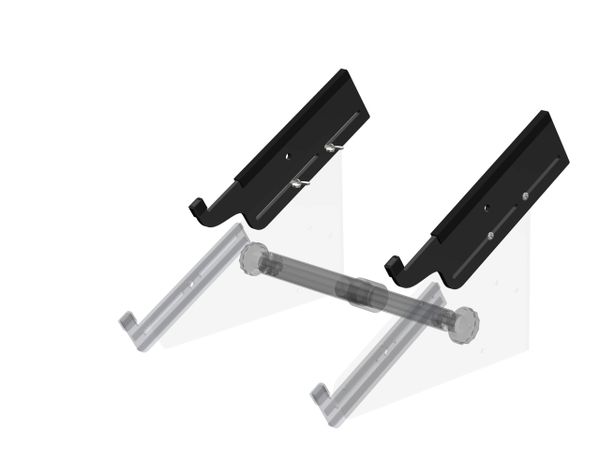 Adapt Wings Tall
TALL Adapt Wings allow you to:
Add an extra mini-tier to Adapt L1 and Adapt L2 stands. 
Raise gear on the stand to be higher than another piece of gear on the table in front of the stand.
Support long gear that hangs over the back of a compatible stand
Act as a kickstand to support a stand that has an unbalanced load.  We will begin adding kickstand mounting holes to stands we build beginning in November 2020.  Stands already in inventory prior to Nov. 2020 will not include kickstand holes.  By Jan. 1, 2021 all compatible stands will include kickstand mounting holes.


Features:

The height of these TALL Adapt Wings allows cables from gear in front of them to pass underneath
Support edges are 200 mm (8") long, sufficient for holding drum machines, small keyboards, KVgear Expansion Shelves (medium or large), and much more.
When used on Adapt L1 stand, you can install an Expansion Shelf Medium at the front of the stand, with the TALL Adapat Wings at the rear of the stand
Compatible stands include:

Adapt L1 (1 pair of Adapt Hooks are included with this stand)
Adapt L2 (2 pairs of Adapt Hooks are included with this stand)
Boo-2
Boo-3
Utility M1
Utility M2
Utility M3
Volc 45-2
Volc 45-3
Volc 45-4
EDS-1K
EDS-2
EDS-3

This kit includes:
Two TALL Adapt Wings
Screws and wing nuts for securing the hooks to the stand
CAUTION:  Use of Adapt Wings to support gear hanging over the back edge can lead to instability.  The user must ensure that the stand is loaded so it will not tip backwards, especially if the gear on the bottom tier is removed while overhanging gear on the top tier is still in place.   If a stand is unstable, we recommend a pair of Adapt Wings should be installed to act as a "kickstand"
For more information, including assembly instructions and gear fit-check, see our YouTube channel and Downloads Folder.