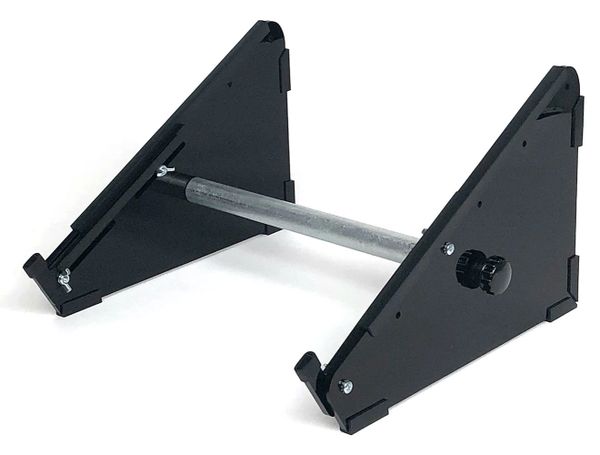 Adapt Stand L1
Make your setup look great and feel great by organizing with KVgear.  Our stands are sleek, compact and sturdy.  They position gear ergonomically and provide room for cable access.  We combine innovative design, quality materials and precision manufacturing to make stands that you can count on.  All KVgear stands are designed by a lifelong synth fanatic and are made in the USA.
---
Fits drum machines, sequencers, desktop synths, keyboard synths.  Add an optional 13" Connector Tube to hold a 49 key keyboard.  Add optional Expansion Shelf (large or medium) to hold small items on stand.  Or add up to three Bendit shelves to hold 6 Volcas.
Partial list of gear that fits:  Avalon, Virus desktop, MPC 1000/Live/Studio, Beatstep Pro, Keystep, P6 and OB6 desktops, Electribe, Monologue, nanoKEY Studio, nanoKONTROL Studio, 4 x Volca (on Expansion Shelf Large), TR-8, TR-8S, MX-1, System 1, Tanzbar, Circuit (7" connector tubes required), Launchpad, Launchpad Pro, Peak, Social Entropy Engine, Squarp Pyramid, Reface, Softube Control 1, Push Controller, Push 2 Controller, Drumbrute, Microbrute, Evolver, Tempest, Elektron (Digitakt, Digitone, Heat require 7" connector tube), Minilogue, Maschine, Bass Station 2.

Support depth:
  8.4" (213 mm) standard.  15.8" (302 mm) with optional Adapt Wings installed at rear and front hooks extended fully (requires front hooks to hang below front edge of table or desk.
 


Features:
One pair of Adapt Wings included.
Can be oriented in either of two ways, giving you a choice of angles (30 or 60 degrees).
Adjustable gear hook positions.
Gear can hang beyond the back edge by at least 5" if optional Adapt Wings are installed at the rear edge.  CAUTION:  Use of Adapt Wings to support gear hanging over the back edge can lead to instability.  The user must ensure that the stand will not tip backwards.
Rubber feet and lining for silence and stability
Each synth can be removed from stand without affecting others 
Unobtrusive and almost invisible once you install your gear 
Effortless tool-free assembly/disassembly 
Compatible with the following KVgear accessories:
Adapt Wings
Bendit Tray
Connector tube (various lengths) for narrow or wide gear
EDS-UX (to add Eurorack tier at the top of the stand)

Expansion Shelf Medium
Expansion Shelf Large
Stand Risers
Dimensions:
width = 9.8" (249 mm) at supports, 11.3" (287 mm) at knobs
shallow angle (30 degrees) orientation:  6.8" deep x 10.0" tall  (173 x 254 mm)
steep angle (60 degrees) orientation:  10.0" deep x 6.8" tall (254 x 173 mm)

For more information, including assembly instructions and gear fit-check, see our YouTube channel and Downloads Folder.