In early 2013, Korg announced their Volca line.  KVgear was founded a couple of months later, introducing our first Volca stand at Knobcon 2013 and a daisy chain cable shortly afterward.  Since then we've rolled out a wide range of stands and power accessories for Volcas and other small synths.   All of these can be shipped worldwide.  We've compiled the following information as part of our long history of supporting the Volca community.  Contact us if you'd like to suggest additional content.
Models
Model               Year                Synthesis             Output
Bass                  2013                Analog                  Mono*
Beats                2013                Analog+PCM        Mono*
Keys                  2013                Analog                  Mono*
Sample             2014                PCM sample         Stereo
FM                     2016                6 op FM                Stereo

Kick                   2016                Analog                  Mono*
Mix                    2018                (none)                   Stereo
Drum                2019                Digital DSP           Mono*
nubass             2019                Analog                  Mono*
Modular           2019                Analog                  Mono*
Sample 2         2020                PCM Sample        Stereo
* Mono signal is duplicated in phase on left and right headphone channels
Power
All Volcas except the Mix can be powered by 6 AA batteries or an external power adapter.   The Mix can only be powered by an external power adapter.

By default, Volcas are set to use alkaline batteries.  If you are using rechargeable nickel-metal hydride (NiMh) batteries, change the battery type setting in the global parameters for your Volca.

Power Adapter
A Volca power adapter should be 9 volts DC, center positive, with a 4.75 mm x 1.7 mm barrel plug per the EIAJ-03 standard.  The KVgear
PS-1
and
PA-2pro
, and Korg KA-350 and 9V600MACPP are among the few power adapters that meet all details of this specification.
Many power adapter companies ignore the standard by using a smaller (4.0 x 1.7) barrel plug.  They get away with this because the power input jack on a Volca can accept an undersized plug.  While this shortcut improves the profit margin of the company selling the power adapter, it could potentially be a problem for consumers because an undersized barrel plug on a power adapter cannot be used with Volca daisy chain cables. 
Current Capacity
The current rating on a power adapter describes the amount that it can provide if gear demands it.  Think of the current as being "pulled' from the power adapter by the Volca.  The power adapter does not "push" current to the Volca.  For this reason it's ok to use a power adapter with a high current rating.   When using a daisy chain cable you should look for a power adapter with the highest current rating to ensure that it has enough power for several Volcas.

Daisy Chain Cable
Power adapters can be expensive and occupy a lot of space on AC power strips. Many people don't want to purchase a separate power adapter for each Volca.  Instead, they use a daisy chain cable (daisy chain splitter, power splitter cable, squid, or multi-plug cable) to power several Volcas from a single power adapter. 
If you're looking for a daisy chain cable, we recommend, naturally, the KVgear DC-5.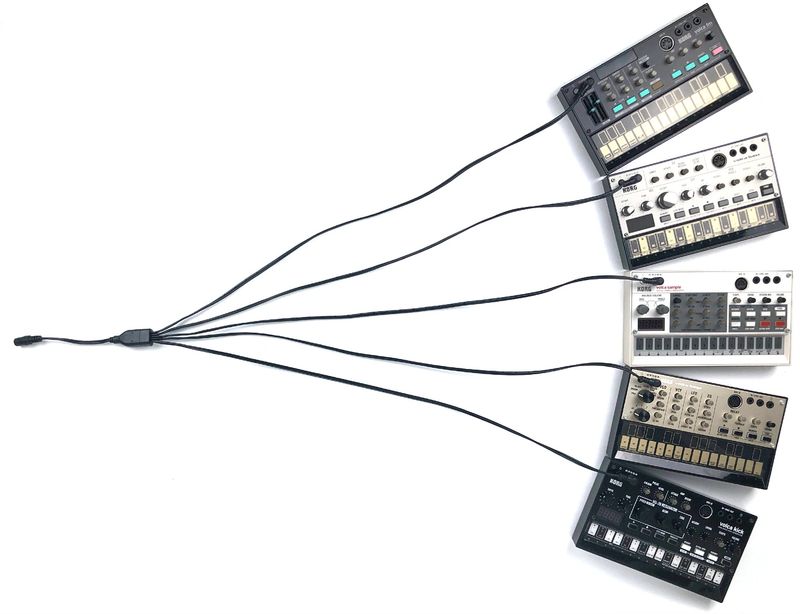 Guitar Pedalboard Power Supply
Another option is to use a multi-port "power brick" with isolated 9 V power outputs.  Because polarity is generally center negative on a pedalboard power supply, Volca owners must use an adapter cable that switches polarity and has the correct plugs on each end.  The KVgear CBL-XV cable is made for this purpose.

    +   
Korg Volca Mix and KVgear Vixen Power Hubs
The Korg Mix and KVgear Vixen (discontinued) have daisy chain power hubs.  Cables must have 4.75 x 1.7 plugs on each end.  The KVgear CBL-VV cable is designed for this purpose and it's longer than the ones provided with the Mix.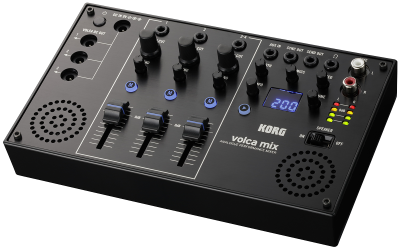 +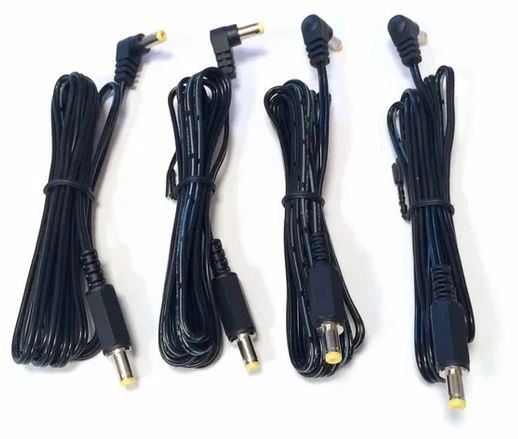 Ground Loop Hum
Any time that a daisy chain cable is used to power multiple devices, there's a chance that ground loop noise (ground hum) can develop.  The easiest solution is to place an audio isolator cable inline with the audio output cable on whichever Volca is experiencing the noise.  In our experience, if you are powering 3 to 5 Volcas on a daisy chain cable, you might need a single audio isolator cable, although it's possible you could need 2 or zero if you're lucky.  There are many audio isolator cables on the market.  We have used the PAC SNI-1/3.5 and Mpow Ground Loop Noise Isolator with great success.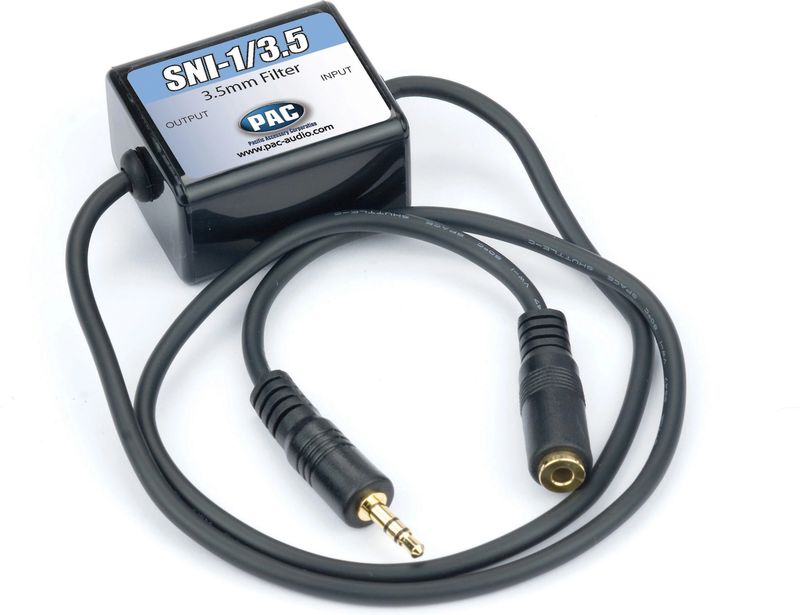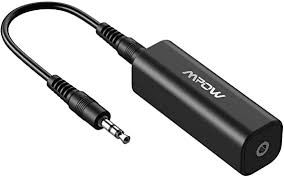 Audio Cables
Short answer -- Use any of the following:
3.5 mm stereo (TRS) to 3.5 mm stereo (TRS)

3.5 mm stereo (TRS) to 1/4" stereo (TRS)

3.5 mm stereo (TRS) to dual 1/4" mono (TS)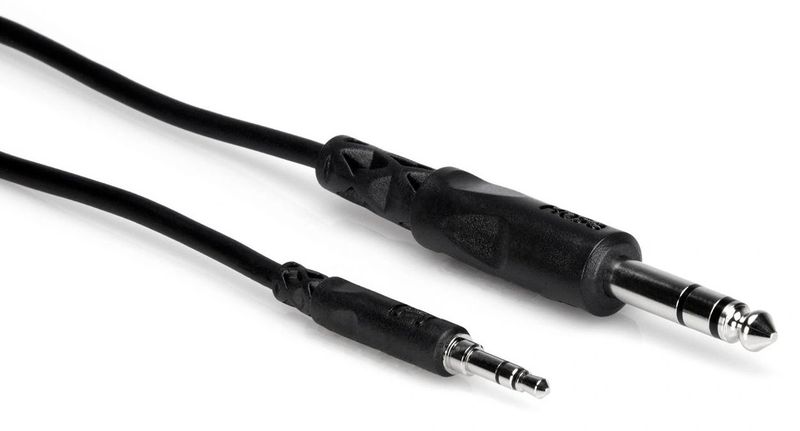 To minimize mechanical strain on the Volca headphone jack, it's recommended that you do not use a 1/4" cable plugged into a 3.5 mm adapter.  Instead, use a 3.5 mm cable and plug it directly into the Volca headphone jack.
Korg recommends that only stereo (TRS) cables should be used for Volca audio output, even on mono Volcas.  This applies even if you're plugging the stereo cable into a mono input on a mixer.  There's no harm in this because a mono jack in a mixer does not make use of the duplicate mono signal on the other side of the stereo connection.

A 3.5 mm stereo (TRS) to dual 1/4" mono (TS) cable is a valid option.  If used with a stereo Volca, both mono 1/4" plugs should be connected to inputs on a mixer or audio interface.  If used with mono Volcas, the two 1/4" mono plugs will carry the same signal and you only need to plug in one of the 1/4" plugs; you can leave the other 1/4" mono plug hanging loose (not connected).  Or, you can plug the other 1/4" plug into a different device (audio interface or an effects pedal).  
A 3.5 mm stereo (TRS) to 1/4" mono (TS) adapter should NOT be used.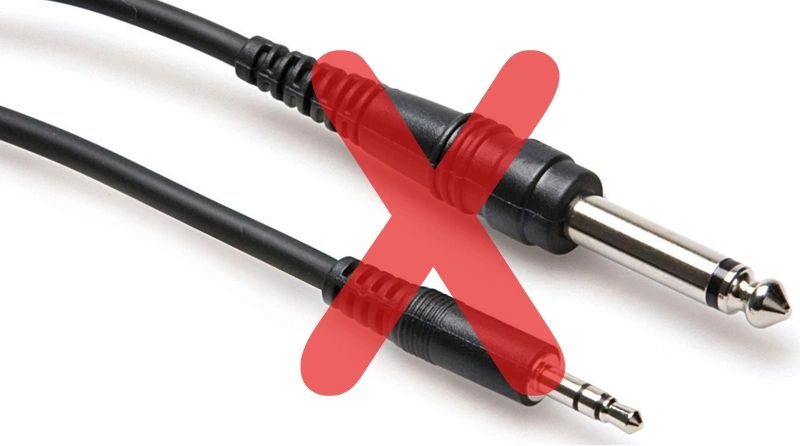 In addition you should always connect a Volca's output to an unbalanced input.  Connecting a Volca to a balanced input can cause problems with sync.
Sync Cables
Short answer:  Use 3.5 mm cables for sync.  Mono (TS) highly recommended, but stereo (TRS) can be used.*
*NOTE:  Korg consistently states that sync cables must be 3.5 mm mono (TS) even though they shipped early Volcas and the Mix with TRS (stereo) sync cables.  Some users report sync problems when using mono sync cables, especially when using mono audio cables (NOT recommended).  But this type of problem is not widespread.   If you experience timing issues or glitches, make sure that your audio cables are stereo and then carefully go through the global parameters on all your Volcas to ensure that sync polarity is set up properly across all devices.  If sync problems persist, remove all audio output cables and continue troubleshooting.
Volcas will share the same tempo if you connect them with sync cables.  Plug one end of a sync cable into the OUT jack of a Volca and into the IN jack of another Volca.  Continue to connect sync cables to the OUT and IN jacks on other Volcas.  The first Volca in the chain will be in control of the tempo for all.  You can start and stop the sequencers on each Volca independently, but they'll all be on the same beat.
There's a hack to allow all synced Volcas to receive a start signal at the same time.  On the master Volca (the one at the start of the sync chain), plug one end of a sync cable into the IN jack and leave the other end of the cable unplugged.  Press PLAY on each of the Volcas.  When you pull out the extra sync cable from the master Volca, all Volcas will instantly start playing at the same time.  All Volcas will stop at the same time when you plug the loose cable back into the IN jack on the master Volca.  If any notes continue to play on any of the Volcas, hit the PLAY button on that Volca to stop the sound.
3.5 mm mono (TS) cables are easy to find at nearly any place that sells audio cables.  If you're fond of rainbow colors, consider the Korg SQ-CABLE-6 sync cable (pack of 6).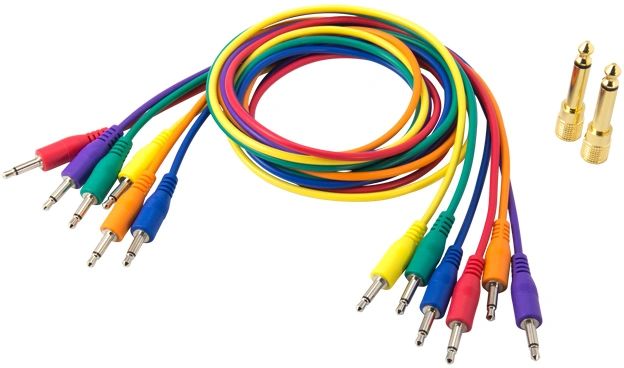 MIDI Cables
Any standard MIDI cable can be used with Volcas.
Mixers
To bring the sound of multiple Volcas together you'll need some sort of mixer.  Options range from a simple headphone splitter on up to a pro-quality mixer.  Each option has benefits and drawbacks.  We'll examine them below in order of cost.
Headphone Splitter
Some people use a headphone splitter, such as a Belkin Rockstar, to combine multiple Volca outputs to a single stereo output.  
Pros:  very inexpensive, very compact
Cons:
Loss of volume
Can cause sync problems, especially at high volume
Potential damage to Volcas due to impedance mismatch (output from one Volca can back-drive into the output of another Volca)
Passive Mixer
A passive mixer is an unpowered device that can safely combine signals due to resistors in the circuit.  This makes a passive mixer a step up in safety and price from a headphone splitter.  A passive mixer can be as simple as a DIY circuit board with resistors and audio jacks, on up to a device with a metal housing and faders.   But beware that the volume control can only attenuate (reduce) the volume, not amplify it.  Because there are dozens of passive mixers on the market, you should be able to find one that has the right number of channels, jack size and type, controls, and physical size to meet your needs.
Pros:  inexpensive, compact
Cons:
Loss of volume
Can cause sync problems, especially at high volume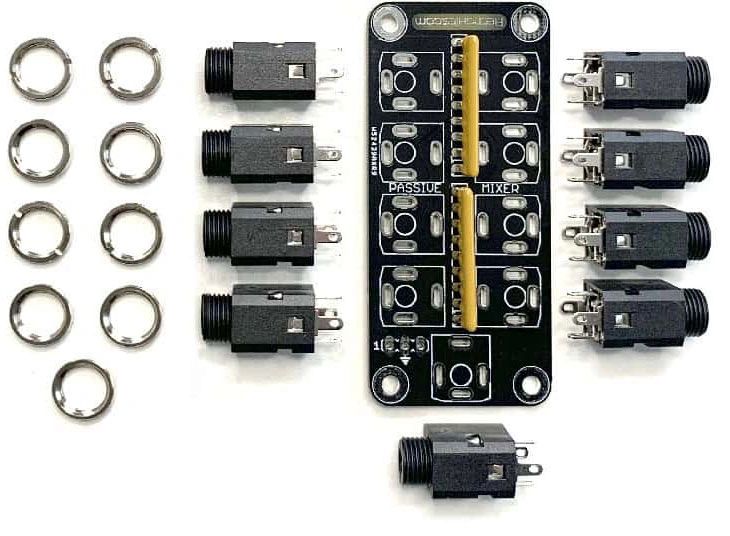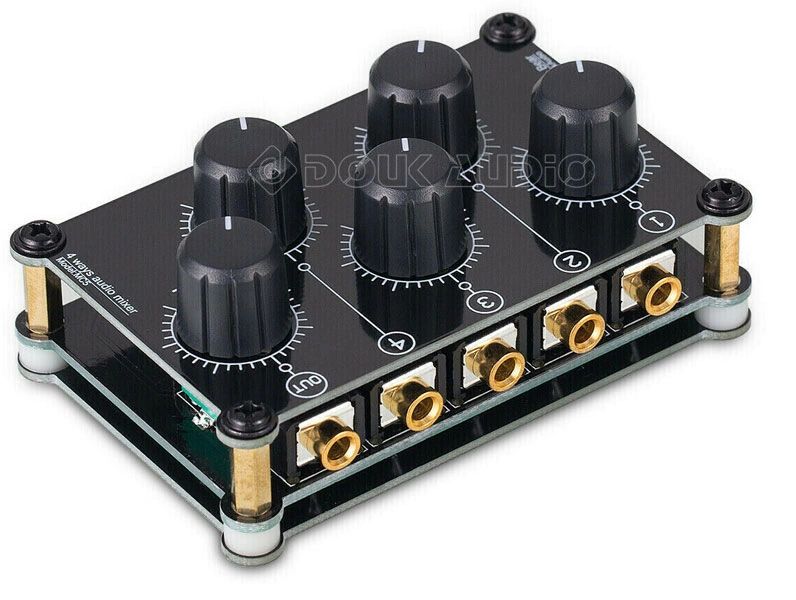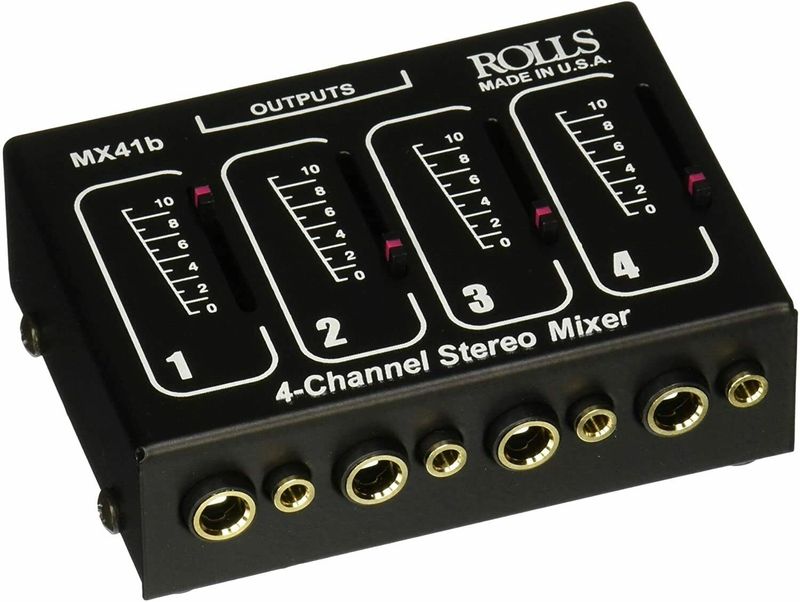 Compact Mixer
In recent years a number of small mixers have become available.  They have a wide range of features and prices, and varying levels of quality.  A few notable ones are listed below.
KVgear Vixen

Pros:  8 channels, mutes, panning, 2 aux sends, separate phones and main outs, power for 8 Volcas, battery powered, same size as Volca
Cons:  no longer available
Korg Volca Mix

Pros:  can power Volcas, same size as a Volca
Cons:  only 3 channels, not battery powered
Bastl Dude: 
Pros:  small, battery powered
Cons:  limited features
Maker Hart Loop Mixer

Pros:  inexpensive, pan controls
Cons:  limited features, noise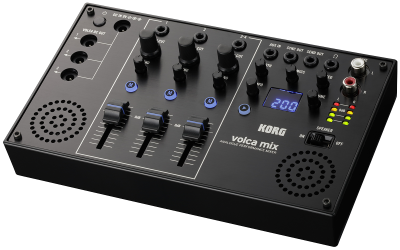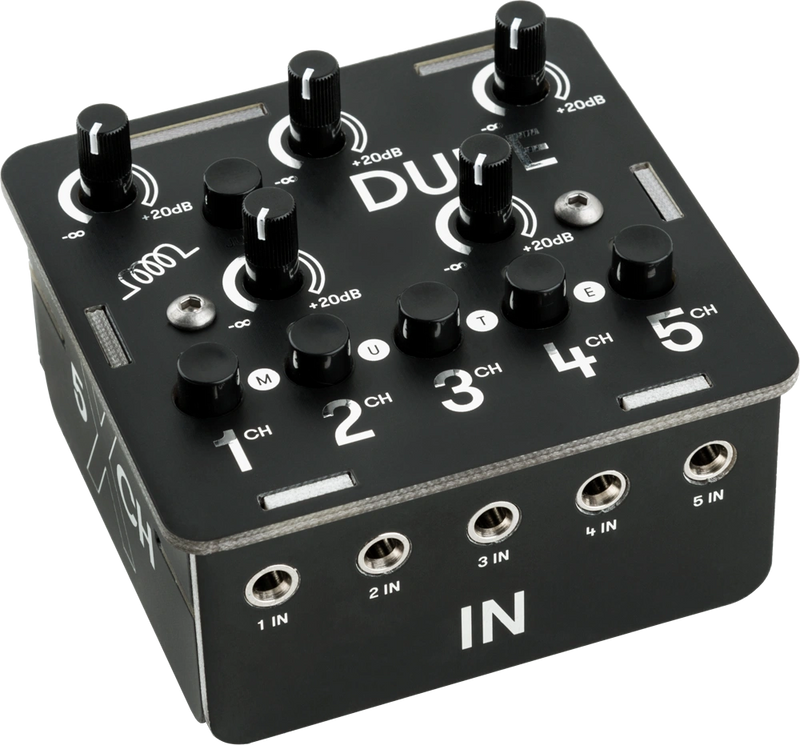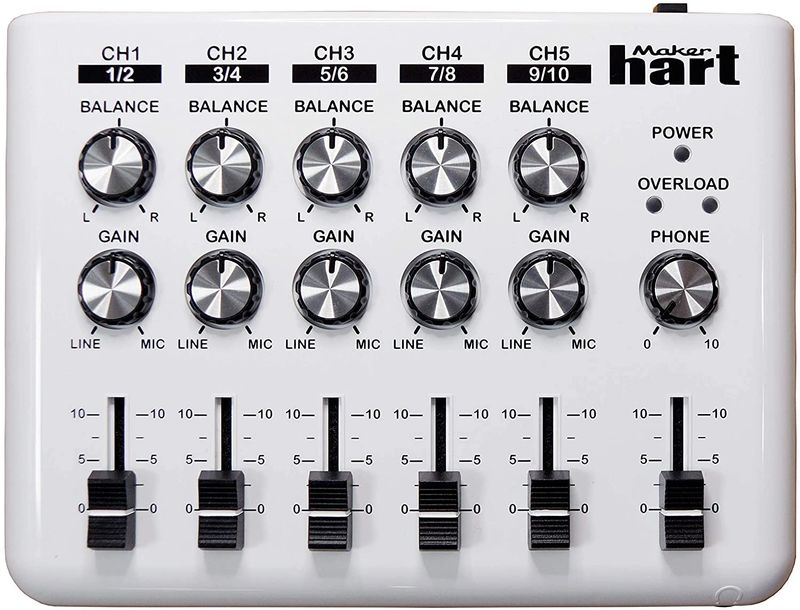 Large Format Mixer
Traditional mixers commonly found in home studios and touring rigs can offer a lot of features.  There are too many mixers to list them all.  A few that are popular with Volca users are:  Behringer Micromix MX400, Mackie Mix8, Behringer Xenyx 1002B, Soundcraft Notepad (-5, -8FX, -12FX versions).
Stands & Racks
Volca users are spoiled for choice when it comes to stands and racks.  There are dozens of options ranging from DIY, to 3D printed, to metal, to wood, to precision plastic.  But buyer beware!  Quality, sturdiness, appearance and price vary widely.  When shopping for a Volca stand, pay attention to the materials used, especially in the pieces that connect the side panels together.  Does the stand clamp the Volcas like a vise, or is the stand sturdy on its own?  Will the stand be stable when the Volcas are played?  Will the stand have a tendency to tip backwards?  Can the stand be expanded or added to?  Is the stand designed in a way that could easily fail (such as screwing into the edge of an MDF bar)? 
Listed below are the professional quality Volca stands that KVgear offers: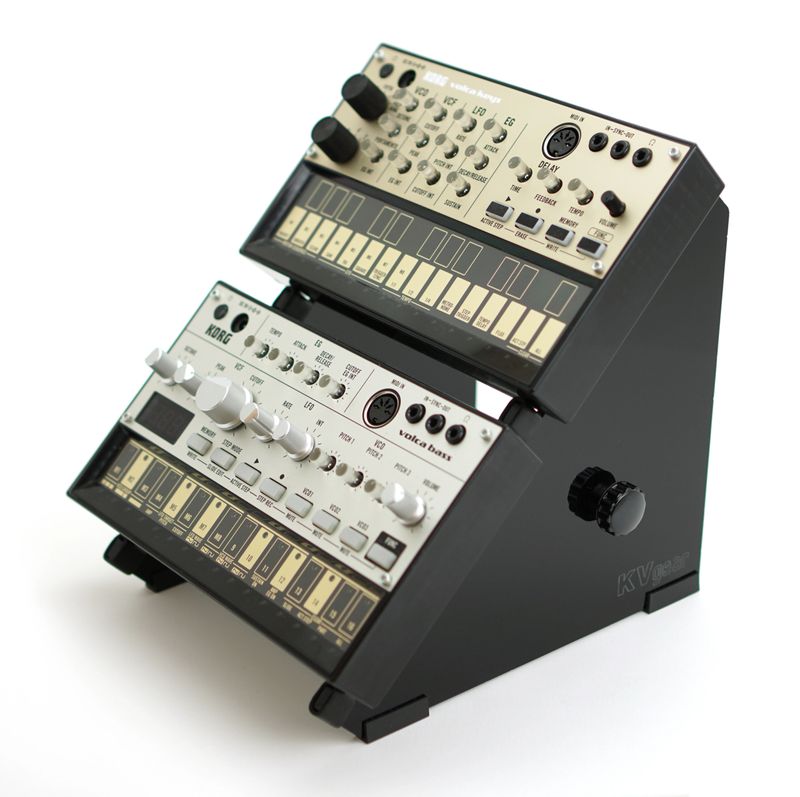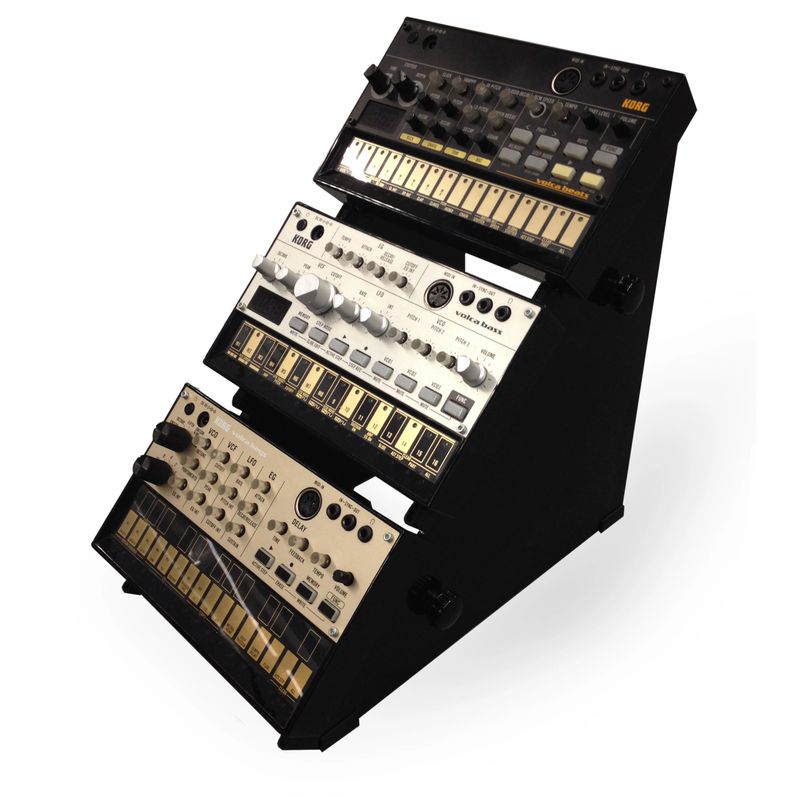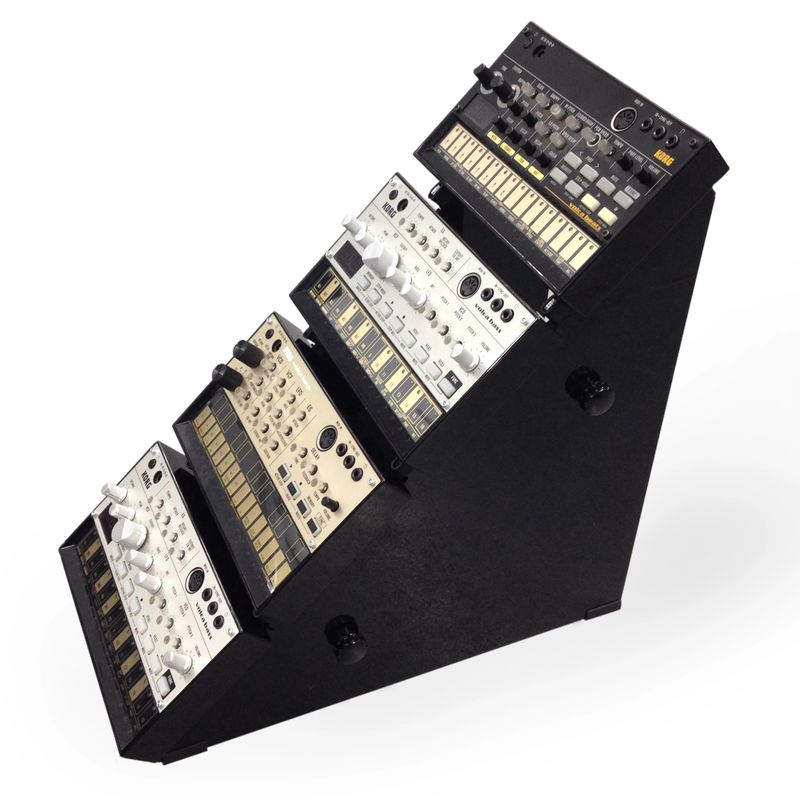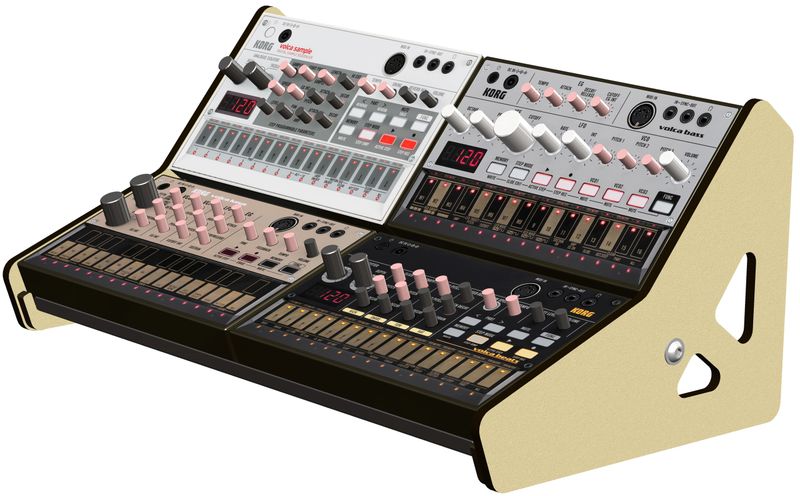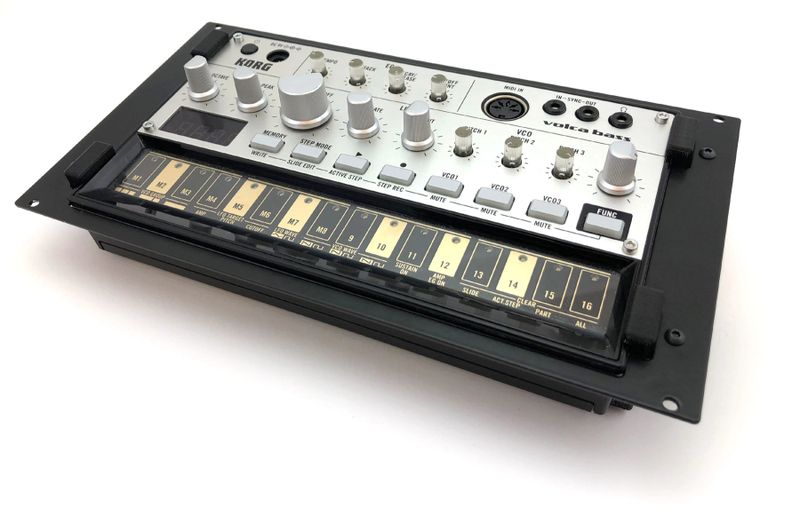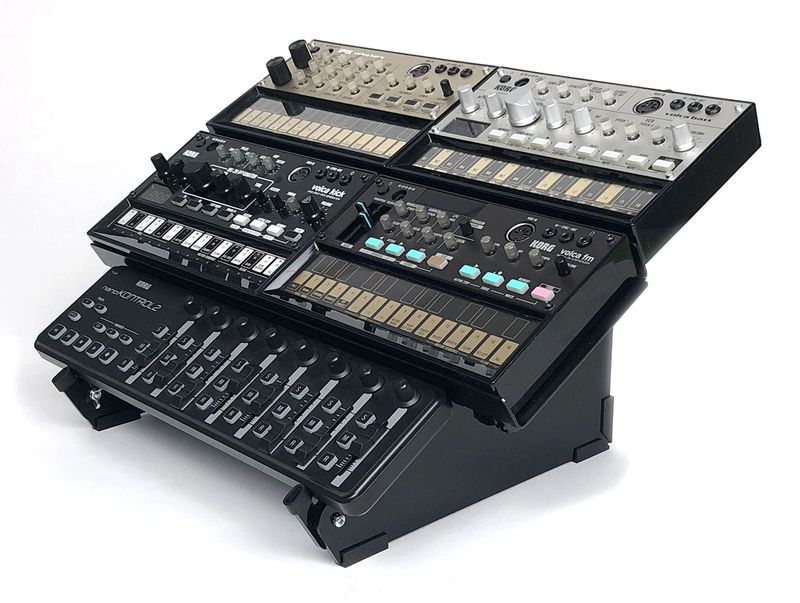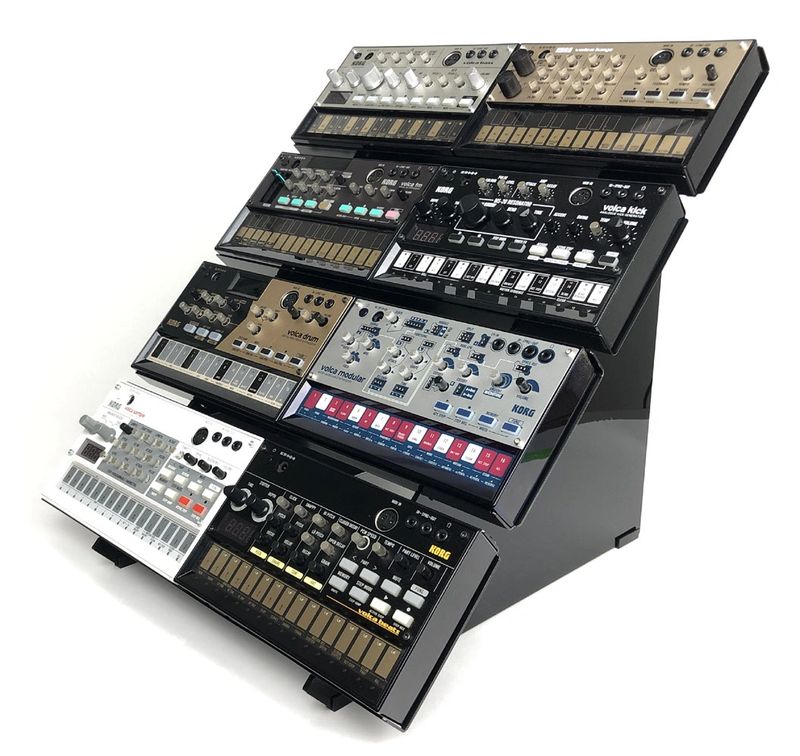 Cases & Covers
Soft Cases:
Analog Cases Glide (for 1 Volca)
Sequenz CC-VOLCA (for 1 Volca)
Hard Cases
Vaultz Pencil Box (2.75" x 5.5" x 8.25")

Sequenz CB-4VOLCA (for 4 Volcas)

Covers
Decksavers for Volca Series, and Decksavers Volca Mk2
Further Information
Volca groups on Facebook
Volca Jam (monthly jam contest)
Korg Volca Expert Guides by Tony Horgan
VolcaSeries Buying Guide on Reverb
Tutorials, Tips, Trick by Filipe Teixeira
Volca Fan Art by Henry Kalenius