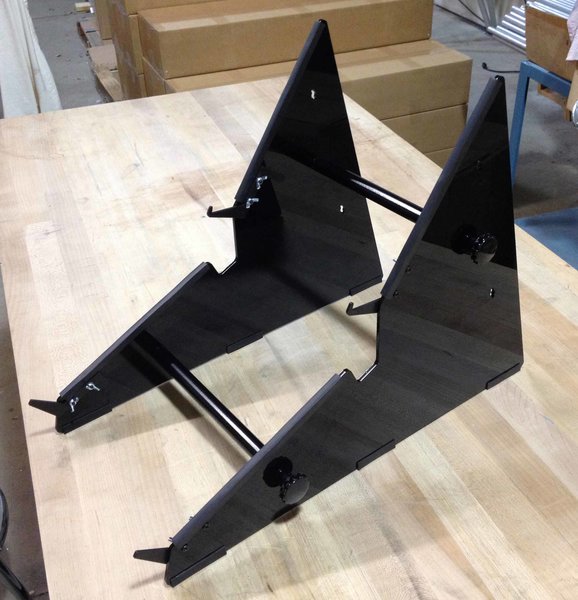 Model A Stand
The Model A stand is sold out and has been replaced by the Utility L2.
Stand for Roland Aira TR-8, MX-1, TB-3, VT-3, System-1, and lots of other gear.

The Model A stand will hold any piece of Roland Aira gear in a compact, ergonomic manner. It's suitable for studio or stage use. Multi-purpose hooks on the upper and lower tiers can be positioned in multiple ways to accommodate a wide variety of uses. You can use the Model A with an all-Aira setup, all-non-Aira, and anything in between.
The Model A is lightweight and can be easily assembled or disassembled.
Dimensions:
Width, across knobs = 11.35 in (288.4 mm)
Width, at the base feet = 9.98 in (253.5 mm)
Depth = 19.92 in (506 mm)
Height = 14.9 in (378.3 mm)


The Model A stand was originally envisioned to be used exclusively for Roland Aira gear. While it's true that the stand includes many design details perfectly suited for Aira gear, it's versatile enough to be used with a long list of small electronic music gear. A key to its versatility is the optional metal shelf. For small pieces of gear, the metal shelf provides a stable platform. Gear that's 10.5" wide or wide will be able to sit directly on the side panels and hooks of the Model A, avoiding the need for the shelf.

Some of the gear that will fit on the Model A;
Ableton Push Controller
Abstrakt Instruments Avalon
Akai MPC1000
Akai Rhythm Wolf
Apple iPad Air and Air 2
Apple iPad mini
Arturia Beatstep
Arturia Beatstep Pro
Arturia Microbrute
Arturia Minibrute
Behringer BCR 2000
Digitech guitar pedals
DSI Evolver
DSI Mopho
DSI Prophet 08 rack
DSI Tempest
DSI Tetr4
Elektron Analog Four
Elektron Analog Rytm
Elektron Machinedrum
Elektron Monomachine
Elektron Octatrack
Grendel Grenadier RA-9
Korg Electribe
Korg Electribe Sampler
Korg Kaoss Pad Quad
Korg Kaoss Pad/Pro+
Korg microKorg
Korg Monotribe
Korg monotron (regular, delay, duo)
Korg MS20-M
Korg SQ-1
Korg Volcas
MFB Tanzbar
Moog Mini Foogers
Moog Minitaur
Moog Moogerfoogers
Moog Werkstatt-01
Native Instruments Maschine
Native Instruments Traktor Kontrol X1 and F1
Novation Bass Station 2
Pigtronix pedals
Roland JD-Xi
Roland MX-1
Roland RC-505
Roland SBX-1
Roland System-1
Roland TB-3
Roland TB-303
Roland TR-606
Roland TR-8
Roland VT-3
Social Entropy Engine
Strymon pedals
Teenage Engineering OP-1
Vermona Mono Lancet
Waldorf Blofeld
Waldorf Microwave Xt
Waldorf Pulse (and Pulse 2)
Waldorf Streichfett
Yamaha Reface